Slow Fashion Clothes Swap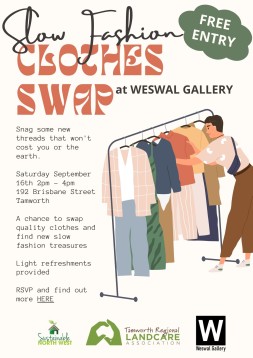 Embrace Sustainable Fashion at Our Clothes Swap Event!
Hey fashion enthusiasts! Looking to refresh your wardrobe without breaking the bank or harming the planet? Join us on Saturday, September 16th, from 2pm to 4pm at 192 Brisbane Street, Tamworth, for an exciting clothes swap event that's all about quality, style, and sustainability!
Here's what you can expect:
Snag New Threads: Trade in your gently worn garments for some fantastic new-to-you pieces. It's a wonderful way to give your clothes a new lease on life and discover unique slow fashion treasures.
Slow Fashion Delights: Say goodbye to fast fashion and hello to timeless pieces. Explore a curated selection of high-quality clothing that's not only trendy but also eco-friendly.
Light Refreshments: Enjoy some delightful nibbles and refreshments as you mingle with fellow fashion lovers and discuss your favorite sustainable brands and style tips.
RSVP Now: Secure your spot by RSVPing here, and discover more details about this fantastic event.
Free Entry: That's right, entrance to this eco-chic event is absolutely free! Embrace the joy of swapping clothes without spending a dime.
Let's make a positive impact on our wardrobes and the environment together! Mark your calendars, gather your stylish friends, and get ready to revamp your closet sustainably. See you there!